Source: Amazon 
Private VPC Access Preview
If you have data in AWS (perhaps in Amazon Redshift, Amazon Relational Database Service (RDS), or on EC2) or on-premises in Teradata or SQL Server on servers without public connectivity, this feature is for you. Private VPC Access for QuickSight uses an Elastic Network Interface (ENI) for secure, private communication with data sources in a VPC. It also allows you to use AWS Direct Connect to create a secure, private link with your on-premises resources. Here's what it looks like:

If you are ready to join the preview, you can sign up today.
Flat Table Support – In addition to pivot tables, you can now use flat tables for tabular reporting. To learn more, read about Using Tabular Reports.
Calculated SPICE Fields – You can now perform run-time calculations on SPICE data as part of your analysis. Read Adding a Calculated Field to an Analysis for more information.
Wide Table Support – You can now use tables with up to 1000 columns.
Other Buckets – You can summarize the long tail of high-cardinality data into buckets, as described in Working with Visual Types in Amazon QuickSight.
HIPAA Compliance – You can now run HIPAA-compliant workloads on QuickSight.
Geospatial Visualization
Everyone seems to want this feature! You can now take data that contains a geographic identifier (country, city, state, or zip code) and create beautiful visualizations with just a few clicks. QuickSight will geocode the identifier that you supply, and can also accept lat/long map coordinates. You can use this feature to visualize sales by state, map stores to shipping destinations, and so forth. Here's a sample visualization: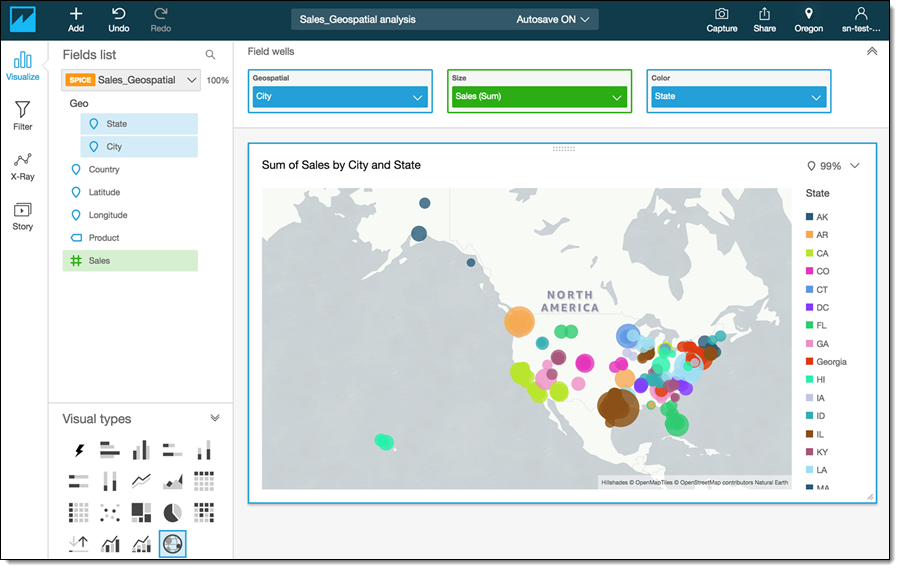 To learn more about this feature, read Using Geospatial Charts (Maps), and Adding Geospatial Data.